Sponsored Content
From prescription drugs to hospital stays to long-term care, patient affordability is a hot issue in healthcare.  While dental care doesn't make the mainstream news in the same way as prescription drugs, dental practices are particularly impacted by patient affordability challenges – and these challenges are likely to increase in the future.  However, with challenge comes opportunity: practices with the vision and ability to effectively adjust their operations will outperform their competitors.
In this article, we will explore three topics:
The problem of patient affordability in dentistry
Why these challenges are actually a unique opportunity for practices to grow
What dental practices must do to win
Patient Affordability in Dental
In a 2021 survey by the Kaiser Family Foundation, 46% of Americans said they found it difficult to afford dental care.  This is more than twice the number of people who said they found it difficult to afford prescription drugs or a home mortgage.  In fact, there was only one topic that patients found equivalently difficult to afford: out-of-pocket for medical care not covered by their health insurance.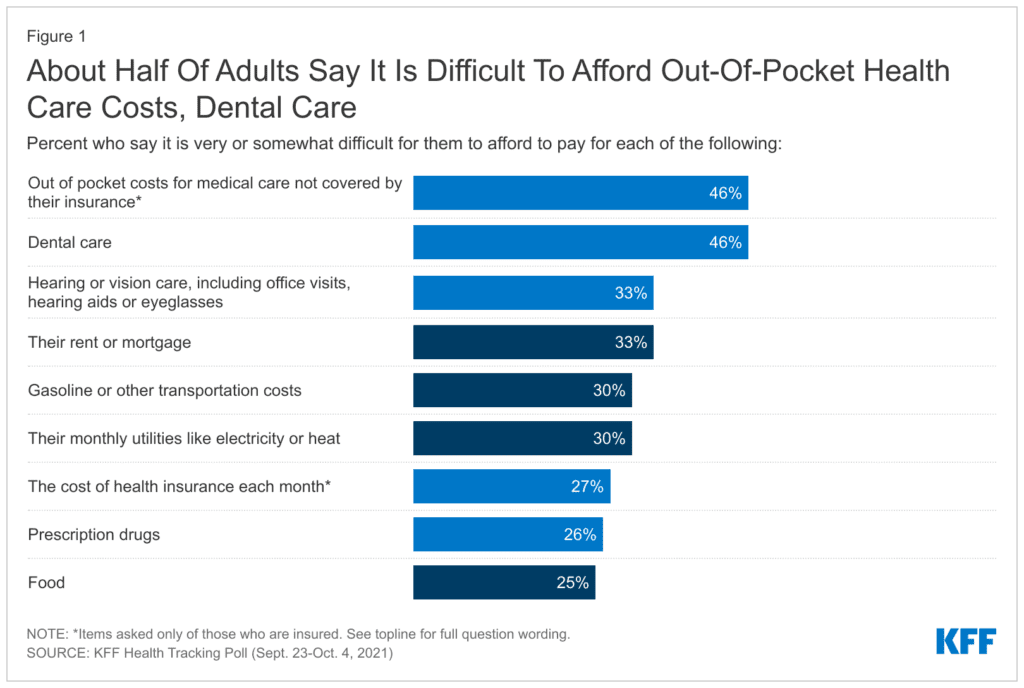 The problem of affordability in dental is likely to get worse for two reasons:
Affordability: A Challenge and an Opportunity
The challenges of enabling patients to afford dental care are long-term and will continue to place stress on dental practices of all sizes.  However, these disruptions are also opportunities for practices to grow their business by providing a better patient payment experience.  What's on the line:
Patients are more open to switching practices, so dental practices with a better payment experience will attract and retain more patients. Rising costs and affordability create incentives for patients to switch practices.  In a JP Morgan survey, 29% of consumers said they would consider switching providers over a better healthcare payments experience.  Dental practices that offer this experience will have more efficient patient acquisition and lower patient attrition.
Dental practices with a better payment experience will have greater treatment plan acceptance and revenue collections, resulting in higher valuations. Delivering a great payment experience will help dental practices improve case acceptance and collected revenue.  One FeatherPay customer saw a 27% increase in collected revenue and a 10% increase in same day care by improving their patient experience.
The Winning Formula
In the changing payment landscape, the practices that will win will be the ones that have the best processes to create an intuitive and flexible patient payment experience, and the right technology to underpin those processes.  There are two critical processes for examining dental practices: presenting treatment plans and collecting unpaid patient liabilities.
Presenting Treatment Plans
Practices can improve their treatment plan acceptance by helping patients better understand how they can pay for their care.  To maximize acceptance, a practice should provide clarity and make payment easy.  Here's a checklist:
Provide Clarity
Treatment plans should be presented in a simple way that is easy for patients to understand.
All payment options should be presented to the patient with their treatment plan. Payment platforms like FeatherPay do this incredibly well, driving case acceptance and patient satisfaction.
Presenting payment options together helps patients make the best decision for them
Make Payment Easy
Enable multiple payment options for the patient, including credit card, third-party financing, and internal payment plans.
Allow a patient to pay in the office or on a mobile device. Many patients need time to think through their purchases. So letting them view their options on a mobile device creates this flexibility.
Allow patients to use multiple payment methods to complete their transactions. Dental practices that use FeatherPay see about 10% of cases over $1,000 use more than one payment method.
Collecting Unpaid Patient Liabilities
Every dental practice has to deal with collections and AR billing.  The best dental practices minimize the amount that they need to collect post-care and make collections easy for their patients and their team.  Here are a few key aspects of collections that the best dental practices do well:
Good dental practices tend to over-collect before care, preferring to refund the patient money than ask for additional funds. This is actually a better experience for the patient, but requires a payment platform that can efficiently process refunds.
It's critical that a practice's payment solution makes it easy for patients to pay. FeatherPay enables patients to pay their bills directly via text message or email.  It supports digital payment methods like Google Pay and Apple Pay, as well as credit cards and third-party financing.  Unlike many other systems, there's no login step for the patient to pay their bill, so a bill can be paid quickly.
FeatherPay: The Future of Dental Payments
FeatherPay is a payment platform that drives revenue and lowers operational costs for dental practices, all while delivering a great experience for patients. It does this by consolidating all the different ways a practice enables its patients to pay into a single experience for patients and administrators.
With FeatherPay, patients can see all of their payment options, and they can combine multiple payment methods in a single transaction. Patients can pay in the office, or a secure link can be texted or emailed to patients to enable payment on their mobile devices.
FeatherPay also simplifies back-office operations such as reconciliation, auditing, refunds, and patient billing, leading to more efficient and accurate processes that save time and money.
Discover how FeatherPay can help your practice save
time, money, and exceed your patients' expectations.
Learn more and schedule a demo today.

---
Looking for a Job? Looking to Fill a Job? JoinDSO.com can help:Subscribe for free to the most-read and respected
resource for DSO analysis, news & events:Read what our subscribers & advertisers think of us:
Proposed structure and meta-data
Meta Description: Learn how FeatherPay can help your dental practice grow and tackle the dental care affordability issues your patients are facing.
URL Structure: affordability-in-dental-care