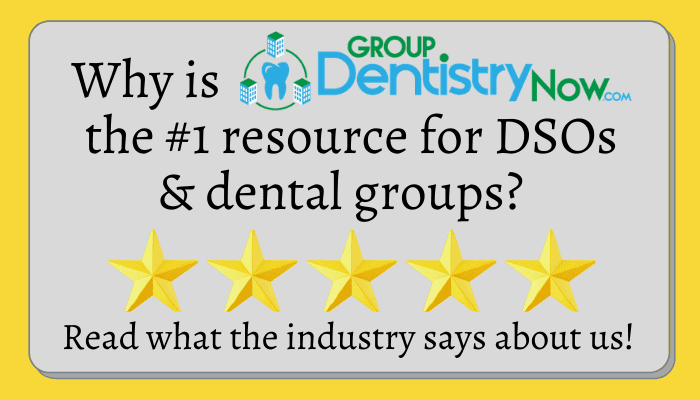 📢 Group Dentistry Now is imitated, but never duplicated! Make sure you are reading the original DSO and dental group enewsletter published by Group Dentistry Now. We support the entire DSO industry from an objective standpoint. Established in 2014, GDN is well-balanced, a first mover and the leading resource in the DSO Industry. We appreciate your loyal support!
"Just a note to say how much I enjoy getting the GDN newsletter to keep me informed of what is going on in the DSO market. You provide such great information and our industry is better off for it. Thank you."– Scott Graversen, Director, Facility & Dental Equipment Management, Smile Brands, Inc. (DSO)
---
"I'm a huge fan of the podcast. I binged all episodes prior to moving into dentistry in December. Thanks so much for the great content." -Ron Kerensky, Chief Information Officer, SGA Dental Partners (DSO)
---
"I was happy to see the 25% spike in traffic to our website on the day our article was published on Group Dentistry Now. It's clear that your website has a strong and engaged audience. I look forward to working with GDN again very soon." -Jane Levy, Co-CEO, Plan Forward
---
"I have to let you know; I get great value out of your newsletter. This last issue was outstanding. Thanks for giving us access to this important content." –Mike Gergen, CEO, EviDent Alliance (DSO)
---
"I am writing this letter to say thank you to Kim Larson and Bill Neumann of Group Dentistry Now. As a new organization in the industry, the amount of free content and education they put out is remarkable. Both Kim and Bill are incredibly knowledgeable and appear to be beloved by everyone in the industry. As someone with so much to learn, I'm thankful I can count on their podcast and active feed on LinkedIn to learn new things every week. I hope to one day return the favor and help people and organizations as they have for me. If you don't already, follow them on LinkedIn and be sure to tune into their podcast." -Kyle Rodrigues, VP of Business Development, Dentlogics
---
"Thank you very much for the Oakpoint recognition as an "Emerging Dental Group to Watch." It's exciting to be recognized by Group Dentistry Now which is so well respected. I admire your marketing efforts and those of Kim Larson. Group Dentistry Now's platform is fantastic – by far the best reference – and I enjoy soaking it up." –Kim Wolozyn, Director of Marketing, Oakpoint (DSO)
---
"Bill and Kim- thanks for being the #1 resource for DSO information in our industry!" -Darin Acopan, VP of Business Development, DEO – The Dentist Entrepreneur Organization
---
"Kim and Bill, I wanted to express how much I enjoy listening to your 'Group Dentistry Now Podcasts'.  I enjoy hearing our colleagues in the industry speak live and the different ideas and perspectives they have in managing their DSOs.  I often keep a separate window open and take notes.  Bravo to you and the team for putting forward great, valuable content to our industry." – Alex Faigel, CEO and Co-Founder, Dr. Dental (DSO)
" 'Just got our invoice and I have to say OMG – best marketing money we have EVER spent,' says our CEO and Founder.  As the Director of Business Development for the US arm of a Canadian based software company, I knew we would get a great ROI on a sponsored content article in GDN.  The readership and social reach the folks at GDN have is unparalleled in the group dental industry.  Together with one of our larger customers, we were able to tell a story that reflected all that we do for customers.  Within two weeks, here's what happened:
12 inquiries into our website 

11  demos completed

15 calls completed with the sales process continuing

4 strategic partnerships being explored

1 inquiry from Australia!

4 contracts out for signature

1 contract signed with a brand new customer- this happened in three days total and it more than paid for the cost of the article
If you have a small marketing budget or if you are looking to boost your exposure on a national level very quickly, a sponsored content article with GDN is the way to go.  We cannot recommend it enough!" -Gina Ellis, Director of Business Development, EDMS Dental, USA
---
"I own a marketing agency in Pittsburgh that works with DSOs. I just wanted you to know that your website is my #1 resource for the industry. Keep up the great work!" -James Blundo, Vice President at Sparq Designs
---
"Group Dentistry Now is THE leader in our industry for information and events, as well as news, education, products and more.  It is the first place I look to learn what is happening with DSOs and dental groups, and also the first place I look when I am determining what events to attend each year.  The team at GDN is truly world-class and they have consistently informed us with professionalism, relevant content and a vision for the future of dentistry." -Jeromy R. Dixson, DMD, MBA, & CEO – The DSO Project LLC
---
"We are incredibly grateful to the team at Group Dentistry Now for their support of our annual Scaling Up Group Dental Symposium. They are a pleasure to work with and collaborate with on ideas to drive event registrations. They truly helped to make our conference a success!"– Elizabeth Winkler, Director of Marketing, Mortenson Dental Partners (DSO)
---
"I am reaching out to tell you how much I appreciate Group Dentistry Now. Your website has helped my family-run DSO of 23 clinics in Montreal, Canada. GDN represents the life of group dentistry very well! Thank you!" – Anthony Lapointe, Recrutement des professionnels Dentistes & Denturologistes chez Centres dentaires Lapointe (DSO)
---
"Thanks for all the good reporting through all of this (COVID-19).  You are one of my few go-to sources.  Very helpful." -Drew Ramey, Senior Vice President, Strategy & Provider Development, Rock Dental Brands (DSO)
---
"A HUGE THANK YOU to Kim, Bill and the great team at Group Dentistry Now for the best in class content provided to the DSO community. All of your work makes tremendous progress in the ever-changing field of dentistry while providing a real-world perspective of group dental practice! GDN is the absolute thought leader and authority in news and content for DSOs and we are honored to have been a part of this great publication!" Dr. Saam Zarrabi, Executive Chairman and Co-Founder, Rodeo Dental & Orthodontics (DSO)
---
"I really appreciate the articles you've written on our group since our inception. You have done so much for us. Your articles provide the exposure that helps us grow! Group Dentistry Now is the go-to media company I notify with news on our dental group. It gets us exponentially more exposure within the dental industry. GDN is second-to-none and Bill Neumann and Kim Larson are not only committed to the success of dental groups and DSOs, their network and connections are far-reaching and their integrity is exceptional."  -Steven Jones, Co-Founder & Chief Development Officer, CORDENTAL (DSO)
---
"I just listened to the first episode of your podcast and really enjoyed it! I work for Mortenson Dental Partners and am always looking to expand my knowledge on our industry."  -Andrea Edelen, National Dental Hygiene Director, Mortenson Dental Partners (DSO)
---
"Thank you for your hard work. Knowing there is a place where DSO/MSO owners, operators and dentists can go to gain knowledge about all things group dentistry related is refreshing. Your work is a bridge that allows professionals on all sides of the industry to learn about one another and interact. Our company has benefited on multiple occasions just by the review you published of our company in the 'Emerging Groups to Watch' article. What is most amazing, is you both do this without any expectations from the companies you are highlighting or reviewing. In our brief relationship, we have been able to meet personally with Bill and spoken multiple times with Kim. Both of you are true professionals and we found it very easy to begin building a great relationship. We look forward to staying involved with GDN and continuing to build our relationship with you both." – Ariel Wiener, Chief Operating Officer at Concerned Dental Care (DSO)
---
"Bill Neumann and Kim Larson, you both produce such great content and I completely agree that GDN stands out head and tails from anything else out in the Group, DSO space. Well done!" – Josh Muir, Director, DSO & Strategic Markets, RecallMax.
---
"Bill and Kim provide the most trusted resource in the DSO industry.  Between clinical, business, and the most relevant news, GDN keeps its readers not only informed, but creates connections to better our businesses whether we are dentists, business owners, or vendors." – Mike Montgomery, Senior VP, Healthcare Sponsor Finance, Live Oak Bank
---
"It was great seeing you again last week at that meeting! I had a lot of DSOs mention that they saw our Color Method article in Group Dentistry Now – made me very happy to hear that! -Cindy Bowser, Director of Sales, Zirc Dental Products
---
"Group Dentistry Now provides timely, relevant and informative content concerning the latest developments in the DSO Industry.  I consider GDN a trusted resource and always look forward to the next edition" -Brian Colao, Member & Director of the Dental Service Organizations Industry Group at Dykema
---
"Group Dentistry Now was a great resource when I was doing my due diligence on CORDENTAL. I was researching the DSO and what was happening and trending in the market; GDN had a lot of articles about CORDENTAL that helped me make my decision to affiliate with them. GDN's website was a good resource to read all about DSOs and group practices." -John C. Boain, DDS, Boain Dental Care (an affiliate of CORDENTAL Group) (DSO)
---
"Group Dentistry Now (GDN) is the leading source of DSO industry news. I depend on it regularly to stay informed and often share it with other industry leaders. GDN dependably captures, organizes and disseminates critical updates, trends and issues in a timely and efficient way. Bill Neumann has proven to be an innovator in the dental space. His leadership skills and business acumen are to be lauded."  -Gary Pickard, Director, Government & Industry Affairs, Pacific Dental Services (PDS) (DSO)
---
"CureMint prefers to spend its resources on building amazing technology and support for group practices. So, when we decided to market CureMint, we did so extremely selectively and we determined that GDN was THE place to share our story. After GDN published our article, we received inbound interest from close to 30 qualified organizations in a matter of days. GDN is clearly the trusted resource for DSOs and dental group practices." -Brandon Patrick McCarty, Co-Founder & CEO, CureMint, Inc
---
"Group Dentistry Now's enewsletter is like a crystal ball for the future of dentistry!" -Michael Ventriello, Owner & Founder of Ventriello Communications LLC
---
"A classic characteristic of an entrepreneur is someone who sees a business need, and despite the financial and business risks, assumes the initiative to develop a solution. That is exactly what Kim Larson and Bill Neumann have done with Group Dentistry Now.
As a 20-year veteran of the group/DSO space, I was on a constant quest to audit publications for accurate information about this fast-changing industry. Often I would find that I knew more than those articles did!  You can imagine then how pleased I was to finally find an insightful source of up-to-the-minute news and industry trends for group practice and DSO business models. There is no doubt this market segment will continue to grow with delivery models best able to adapt to the patients' needs for high-quality, value-based dental care. 
It is clear that Group Dentistry Now gives all of us who care about and are vested in this industry access to the most accurate and useful articles, information and analytics. Group Dentistry Now reflects the passion and commitment of its experienced team, Kim and Bill, and their desire to support the success of those working in the space. Thank you both for a brilliant publication that serves our industry's collective audience." -Kathleen Titus, Director Group Practice, Henry Schein
---
"A massive thank you to Group Dentistry Now for supporting DentalForum. Their content allows me to up-to-date with the latest in dentistry, and thanks to their support as a Media Partner, we were able to promote our event with all the right people. It was a pleasure working together!" -Jorinde Opdam, Client Account Manager, DentalForum USA (OpenRoom Events)
---
"We've been lucky to partner with Group Dentistry Now over the past several years. The unique content GDN publishes makes them a valuable resource to many in the dental industry, and we're excited to watch them continue to grow their readership and resources." -Daniel Gates, Director of Marketing, Virtual Dental Care, Inc.
---
"Thanks for supporting 'Scaling Up Group Dental Symposium' and everything you and the team at Group Dentistry Now do to keep the industry informed, we appreciate it!" –Bill Becknell, CEO, Mortenson Dental Partners (DSO)
---
"With the fragmentation of media, it's rare to have both audience reach and engagement; and that's what makes Group Dentistry Now such an amazing resource for the DSO and dental communities. It's a powerful combination of delivering meaningful, highly relevant industry news to a highly engaged and influential audience. Kudos, and keep up the great work!"  -Abe Kasbo, CEO, Verasoni Worldwide
---
"We took advantage of an opportunity to promote our company with Group Dentistry Now. Bill and Kim recommended content marketing, along with an enewsletter and LinkedIn post.  The results were amazing!  It opened so many doors for us and produced valuable new business contacts. We are planning our next campaign with GDN now. Thanks to the Group Dentistry Now team for all they do for the dental community." -David Branch, Partner at Viper Equity Partners.
---
"I've been following Group Dentistry Now for years. It's where I go to read about DSO news and upcoming events in the industry. The articles are top notch as they stay relevant to the topics that I'm interested in, as well as keep ahead of the curve of what's to come." -Craig Saltzman, CEO, Affinity Dental Management DSO
---
"Always good insight and a great resource for industry news!!!"  -Joshua Swearingen, Director, Mergers and Acquisitions, TUSK Partners
---
"Thanks for all the great GDN content. I really look forward to reading everything GDN shares. In the rapidly evolving world of group dentistry, it's hard to find useful and up-to-date information.  We appreciate and highly value the information that GDN provides to help us stay in the know about advances our industry.  Thank you!!"  – Kent McBride, DDS, CDO, Meridian Dental Solutions (DSO)
---
"I've reviewed our site's analytics, and GDN has been our main referral source, which we greatly appreciate!" -Russ Allen, Digital Marketing Manager, Mortenson Dental Partners DSO
---
"I enjoy reading your insight into the DSO world. I have learned a lot in a short period of time. Keep sharing……it is appreciated! I encourage everybody involved in the dental industry to give it a solid read!" – Scott Borden, Vice President, North American Sales and Marketing, Air Techniques
---
"I wanted to say thank you for always supplying all the useful links, and knowledge. We find it very helpful and educational on keeping us up to date. Basically, if people are not tuning into what you are posting, they are behind in the dentistry world. Again, Thank you!" 
– Tony Habashi, Senior Territory Consultant, 
Staff Care
---
"It's refreshing to read Group Dentistry Now and Kim Larson's posts on LinkedIn showcasing the high level of engagement into the rapidly developing industry." – Santosh Patel, President, Complete Specialty Solutions (DSO)
---
"I have been an avid reader of GDN since 2015. It is my go-to DSO news source for group dentistry and DSO news, education and events." – Dmitry Burshteyn Founder/CEO, Perfect Dental Management
---
"GDN is a great resource to know what's going on in our industry. I look forward to the newsletters and seeing how and what is occurring in the DSO space. Keep it up!"  – Ben Winter, Director, Billing, Collections and Patient Services, Mortenson Dental Partners (MDP) (DSO)
---
"Good Morning Kim, I wanted to reach out and thank you for making my early mornings. During my coffee time, LinkedIn is the first channel I check, read and research. When I sign on, for whatever reason, your posts are the first ones I see. You do a remarkable job with keeping group & DSOs in front of readers on all channels of social media/digital marketing. Keep on with your passion for our industry." -Diana Thompson, Founder & CEO, Dental Performance Institute
---
For more about us, click here.
---