For the past seven years, Group Dentistry Now has been committed to the success of emerging dental groups & DSOs and the people who work for them. 
In January 2019, we began recognizing DSO influencers with our annual 'DSO Influencers To Watch' list. We are now pivoting from an annual list to a regular featured article, Center Stage, which will highlight an individual DSO influencer. 
Who is a DSO influencer? Someone who impacts and influences not just their dental group, but the DSO industry at large. With well-honed leadership skills, they inspire positivity, exhibit vision, and display entrepreneurial energy. Outside-the-box thinkers, they have extraordinary business acumen and philanthropic interest.  
---
Our first featured Center Stage DSO influencer is Dr. Sulman Ahmed.
Dr. Sulman Ahmed founded the Dallas-based DECA Dental in 2008 with one location. As the Founder & CEO, he has grown the DSO to over 100 offices located in multiple MSAs and states. The privately-owned dental group operates under the brand name: Ideal Dental.
Instrumental in shaping and overseeing the dental group's growth, strategy and culture, Dr. Ahmed has a natural talent for finding and cultivating leadership and growth within people. He has built a first-class organization of leaders from the top down.
DECA Dental has been on the Inc. 5000 list of America's fastest-growing privately held companies four times in the past six years. On a more personal note, Dr. Ahmed has achieved many honors and awards, one of the more notable ones being a finalist for the prestigious 2016 EY Entrepreneur of the Year, and the winner of the 2017 EY Entrepreneur of the Year.
Meet Dr. Sulman Ahmed:
GDN: Why did you decide to create a DSO and what has the journey been like?
Dr. Ahmed: I felt that there was, and continues to be, a huge void in the industry where the delivery model has focused more on the desires of the dentist and not the needs of the patient. This includes upgraded technology, Saturday and evening appointment times, and all specialty services under one roof. I decided to flip the model and create a unique patient-centered, retail-healthcare brand, and Ideal Dental was born in December 2008.
As we refined this largely de novo-based model, we further standardized all dental and business services. Today we consider ourselves the "Starbucks of Dentistry."
The journey has been an amazing ride of exploration, self-discovery, ups and downs, and something everyone at DECA Dental stands behind and is very proud to call their own.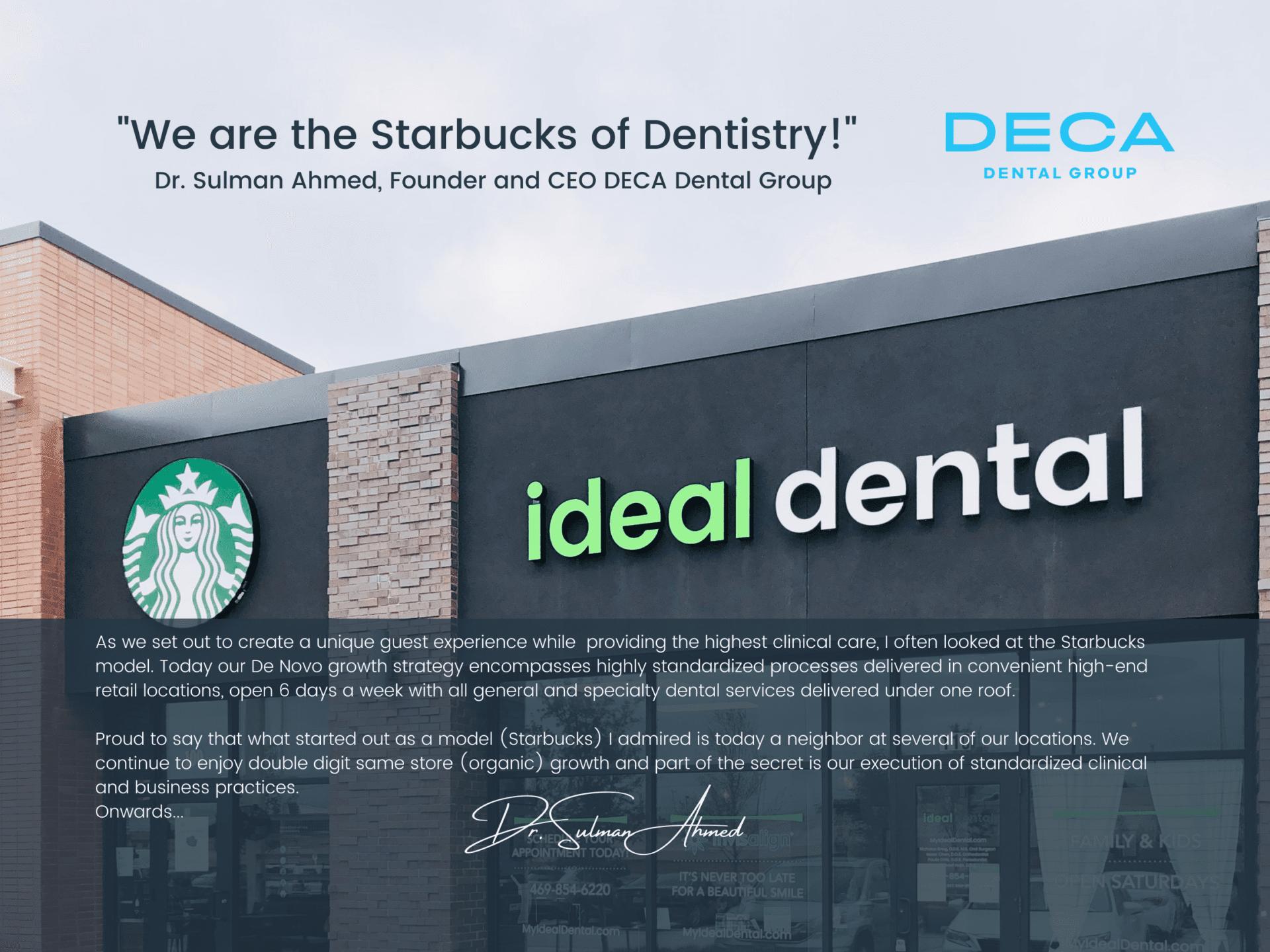 GDN: You've had a very unique and interesting life. Can you briefly share about the early years which shaped you into the business leader you are today?
Dr. Ahmed: I was born and grew up in Zimbabwe (Rhodesia back then) and moved to the US at the age of 19. Growing up in a third-world country broadened my perspective on how I view and relate to people. Overcoming different cultural challenges forces you to develop a certain amount of emotional intelligence, which has helped me immensely during my career. I finished college in Dallas and then attended Tufts School of Dental Medicine.
GDN: Who were the key influencers in your life – both pre-dental and in the DSO space?
Dr. Ahmed: My parents have been the biggest influencers in my life. Their hard-work ethic, sacrifices, and perseverance are traits that are ingrained into my DNA and make me who I am today. Unfortunately, I did not have any key influencers in my pre-dental and even early dental career. I blazed my own path. Today, I consider Dr. Rick Workman of Heartland Dental an influence given his business acumen and clinical background.
GDN: What does your future look like in the industry and what are your thoughts on the future of group dentistry?
Dr. Ahmed: We are at an inflection point within DECA. We have proven our model out in primary first Tier MSAs and are excited to take our brand national. I believe there will be further consolidation in the industry. Today 10% of our business is through strategic acquisitions with entrepreneurial dentists with multisite experience. The ability to execute on the start-up model de novos at sale remains limited, and that's what excites me most about our prospects.
GDN: What wisdom would you share with clinicians who are looking to start a DSO or currently scaling their group?
Dr. Ahmed: There are several successful models in dentistry, and all afford the opportunity to be successful. Be true to your core philosophy and then execute on that vision.
GDN: We have focused on your business side, but there is so much more to you than that. Can you share a glimpse into your personal life?
Dr. Ahmed: My wife is also a dentist. We met in Boston while I was in dental school and she was still in college. I like to think I inspired her to be a dentist too. Today we have three kids. Being a father has been one of the most fulfilling and grounding experiences of my life. I love to travel, golf, and work out.
---
Looking for a Job? Looking to Fill a Job? JoinDSO.com can help:Subscribe for free to the most-read and respected
resource for DSO analysis, news & events:Read what our subscribers & advertisers think of us: