Since we started Group Dentistry Now (GDN) five years ago, we have seen quite an evolution in the DSO industry.  Being a first-mover, we have been on the frontline of reporting on the DSO industry and we are its most vocal advocate, reaching into all corners of the industry: DSOs of all sizes, dental group practices, solo practitioners, dental students, dental school faculty, support staff, PE investors, manufacturers, distributors, and job seekers. The changes we have seen have been positive. We attribute those positive changes to the industry's most invaluable resource: its people.
As we have demonstrated day in and day out over the past half-decade, GDN is committed to the success of DSOs and the people who work for them. Now, we are recognizing DSO influencers. Here is the list for 2019:
KATHLEEN TITUS
Kathleen Titus, Director of DSO/Group Practice at Henry Schein since 1994, has been an instrumental part of the development of many Henry Schein employees' lives, both professionally and personally, and has been making an incredible impact in the DSO industry since 1994.
She has been a mentor in the art of true collaborative, consultative selling; teaching the landscape of our industry and our unique market segments through a visionary lens. She cultivates long-term partnerships, friendships, and business relationships that pay dividends for years.
Kathleen possesses the vision, determination, and aptitude to secure critical relationships. In every fiber of her being, Kathleen is a people developer and a relationship builder. Whether you're a colleague, supervisor, subordinate, customer, vendor partner, industry expert, or anyone in between, Kathleen has an innate gift for incubating, educating, and cultivating individuals and organizations for the betterment of business and, ultimately, customers.
Not only has Kathleen been a pivotal part of many people lives at Henry Schein, she has made an incredible impact in the larger DSO industry.
Six years ago, the AADGP was struggling to bring vendors and attendees to their conference; all of the major vendors had pulled out of their annual meeting and were no longer supporting the association. Kathleen recognized that with the market landscape trending ever more rapidly toward private practice aggregation, DSO formation, and expansion, and with the industry clearly lacking a nationwide resource for bringing these aspiring group practices together to share best practices, learn, and network, that the AADGP had a critical role to play.
She quickly navigated the association, connecting with the executives responsible for the annual conference and went to work building a relationship of trust, partnership, shared vision, and common goals.  She reached out to her powerful network and successfully gained commitments from all the major vendors to return to the table in support of the AADGP.  Kathleen helped secure the bulk of the speakers for their next conference, ensuring that the content was relevant, topical, and valuable for the attendees, and ensured that the industry (and Henry Schein) maintained a crucial forum for the cultivation of, and access to, what would shortly become the fastest growth segment in dental.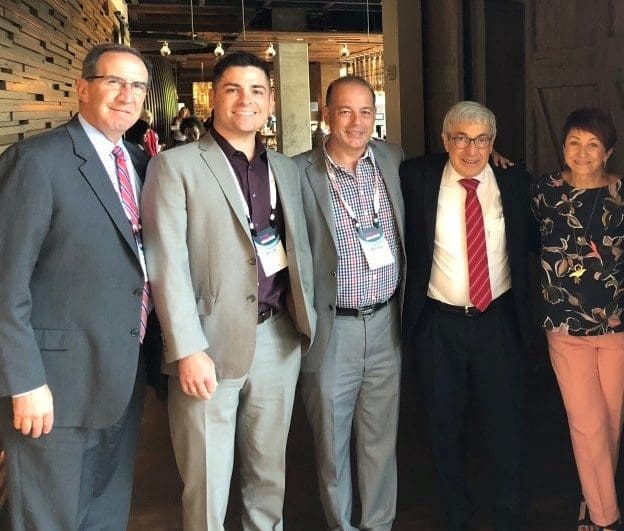 Since then, we've seen an industry within our industry form around this concept: creating DGP/DSO specific conferences, forums, think-tanks, master-minds, and the like; but salvaging the AADGP when she did, for the reasons she did, was the definition of visionary. It was bold, it was brave, and it has acted as a critical contributor to the overwhelming success Henry Schein has had in the mid-market.
The ripple effect of all the subtle, yet strategic initiatives, engagements, and efforts on Kathleen's part is quite literally immeasurable.  Kathleen has quite possibly make the biggest impact, directly or indirectly, of anyone in the entire organization on solidifying Henry Schein as the differentiated leader in this space.
You could airdrop Kathleen Titus into any industry event, anywhere in the country, and before the night was over, she would have successfully networked with the right individuals and organizations. She achieves synergy and success with the finesse that most professionals only dream of possessing.  That is who she is and that is what she does: breathes synergy and success into the DSO industry.
---
JEROMY DIXSON
Dr. Jeromy Dixson is a three-time INC Magazine 500/5000 awarded entrepreneur, and the Founder/CEO of The DSO Project, dentistry's first and only dental support organization (DSO) accelerator. Formerly, he was the Founder/CEO of Smiles Services LLC and Founder/President of Smiles Dental Group PC. He is a visionary, inspirational, and transformational leader who builds unified individuals, teams, cultures, and world-class organizations. Jeromy's guiding principle in building a DSO is the 3 P's: People, Product, and Profit.  In that order. People and relationships always come first.
His story is compelling and inspiring.  Jeromy, also a dentist, became the managing partner of Smiles Dental in 2008. In 2010 he finalized a buyout of his former partners, assumed the role of president and immediately accomplished a successful re-launch of the organization, setting Smiles Dental on a path to explosive growth. The company proceeded to double its number of locations, triple revenue and quadruple its valuation in the ensuing three years. From 2013 to 2015, Smiles Dental roughly tripled the number of locations, revenue, EBITDA and organizational valuation again. He also concurrently co-developed the dental analytics technology software platform that became Practice Analytics, one of the industry leaders in real-time dental practice management analytics.
Under Jeromy's leadership, Smiles Dental was recognized three years in a row (2013-2015) by INC Magazine as one of the fastest growing privately held companies in the United States, topping out at #550 in 2013. Additionally in 2013, he completed a successful private equity transaction.
Most recently, he founded the DSO Project which is breaking new ground by facilitating tools, coaching and leadership to emerging DSOs to create sustainable growth and preparation for investor capital. It is carefully curating and facilitating DSO/investor transactions based primarily on fit.
In addition to his M&A advising and consulting work at The DSO Project, Jeromy provides board services to private equity firms. He also currently serves as a trusted DSO/dental industry advisor for private equity firms, dental technology companies and global dental brands in a variety of capacities. Jeromy was the first to announce to the DSO industry the option of investor minority position deals at the DEO Fall Summit in November 2018.
His commitment to philanthropy and volunteerism is a cornerstone of his character. In addition to personal contributions and mission work, Jeromy's DSO instituted Free Dentistry Days which has grown from $50,000 to $200,000 in donated services annually.
Some additional career highlights include serving on the board of directors and membership committee for the Association Dental Support Organizations (ADSO), and creating of the 'DSO House' approach to guide sustainable DSO creation.
---
BRIAN COLAO
Brian Colao is an attorney and the director of Dykema's DSO Industry Group. Brian has been an attorney for nearly 25 years, practicing in the areas of business and commercial litigation, health care, labor and employment and franchise services. However, it is Brian's work with the dental industry where he has made the most significant impact.
Brian became involved in the DSO industry approximately 20 years ago when he represented a group of 90 orthodontists in litigation with OrthAlliance, Inc. and Orthodontic Centers of America, handling cases of first impression which involved the corporate practice of dentistry and fee splitting in 18 states. This and other successful prominent outcomes resulted in legal opinions that defined and established the law in this area, helped define the law on the legality of the DSO model, and has set the standard for compliance and DSO diligence for the modern industry.
Since then, Brian has continued to influence and shape the face of the industry. Brian has been praised by many of the industry's brightest for his thought leadership. Stanley M. Bergman, CEO of Henry Schein, has publically commended Brian as having "really pioneered the space from a legal point of view. (Brian) has brought a huge amount of comfort to lots of entrepreneurs who are making a difference in the dental space."
Brian is passionate about educating single and group practice owners, PE groups, DSO management, DSO lenders, and dental vendors on the intricacies of the DSO model and the opportunities that exist for them in the changing DSO space. Thousands have relied on Brian's guidance as they navigate the ever-changing industry. Brian has spoken at more than 75 dental conferences and has appeared on multiple podcasts and interviews covering a variety of topics, including the evolution of dentistry from single and group practices to DSOs, the great consolidation of dentistry by DSOs and private equity investors, and the great opportunities present for dentists, DSOs and investors.
As a leader within Dykema, Brian has helped transform the firm's DSO group into a renowned leader in the middle market for DSO buy-side and sell-side transactions, and is considered one of the foremost authorities in North America on the DSO space. He and the DSO group provide valued counsel in developing innovative regulatory compliant DSO models and numerous alternative DSO structures, DSO business agreements, DSO M&A transactions, and DSO compliance.
Brian also spearheaded the creation of Dykema's renowned Definitive Conference for Dental Service Organizations. In 2014, Brian led his team to form this industry-leading DSO conference. Approaching its sixth year in 2019, it now draws more than 600 attendees and represents a "who's who" of all segments of the DSO industry.
---
BEN WINTER
Ben Winter, Director of Billing, Collections, and Patient Services, started at Mortenson Dental Partners (MDP) in 2015. At the time Ben joined MDP, the department was comprised of over 40 individuals all doing things the way they had been done at a private practice. Almost all of the money was paid via check and was being placed in folders to post one item at a time. Ben realized that this was completely inefficient. Working with the IT development team, he and his team built a revolutionary product they named SARA, which eliminated the need to purchase a lockbox from a bank, and saved the company almost $400,000. Within a couple of months of the product's development, days AR outstanding fell from over 30 to the low 20s, freeing up hundreds of thousands in working capital.
Ben made a push to be on the forefront of the EFT/ERA payment system, working tirelessly for almost two years to convert the company to almost 90% EFT. As a result, he began to learn the ins and outs of the systems, and was able to correct several insurance companies, including Delta Dental, Dentaquest, which were being sent improperly formatted payments.
At the same time, he continued to work with development to create a product, PEARL, which could automatically reconcile the accounting for, and automatically post, 50% of MDP's insurance payments. Over $50MM per year is now being posted exclusively by computer. As a result, the AR days outstanding are now about 16 for insurance, some of the lowest in the industry. Additionally, the department was able to attrit almost 50% of its staff and do 20% more work year over year.
In the middle of this, Ben took on an additional assignment, adding the Patient Services call center to his portfolio. The team of 30 was, like his previous department, still doing things the way they had been done for almost a decade, and had the lowest documented engagement in the entire company. Ben went in and decided the first order of business was to create a great work environment. The entire structure of the department and discipline system was overhauled. Where there was an ineffective quality monitoring and training program, Ben pushed a total revamp, resulting in an average quality score of 92% on patient interactions. Ben brought in new leadership, and put in a new phone system the team needed to provide great customer care. On top of all that, Ben pushed and implemented in the summer of 2018, a teleworking program. 40% of the team is now working from their own homes, and has experienced 0% turnover in the last several months.
A recent engagement survey showed an enormous increase in team satisfaction. Ben has also implemented web chat for patient scheduling, and is working on doing text and Facebook scheduling going into 2019. Ben never stops looking for amazing ways to push the company forward. He spearheaded a project to create (and now runs) the centralized billing office for MDP. The process is entirely automated, and works through custom software to send the right bill, collections letter, or collateral to the right patient at the right time. This saves the practices from ever even having to think about billing.
He is also currently spearheading projects to create a new reactivation function as well, currently in its infancy. These projects he helped create in insurance are now being sold on the market under the brand name "Optimize" and will help smaller DSOs achieve some of the scale that he has achieved at MDP.
---
MEREDITH McGONAGLE
It is extremely difficult to be an innovator, motivator, coach and role model, all while getting your own job done. The daily grind of systems and metrics—all important to any successful DSO, can be overwhelming and hinder new ideas and out-of-the-box thinking. However, Meredith's creative and innovative thinking continually introduce new synergies into the workplace in order to help Affinity Dental Management expand and grow. Her out-of-the-box thinking is fed by her vision and entrepreneurial energy.  Her passion creates opportunities to recognize, shape and introduce new processes and systems to improve operational efficiencies.
Coming from a family of dentists, Meredith has been a part of the dental industry her entire career and brings her deep understanding and love for the field.  Her excellent leadership skills have contributed to the DSO's growth from 15 locations to 26, with an incredible zero doctor turn-over and a 98 percent staff retention rate.  Her success has been a significant factor in Affinity's financial success as revenues have doubled under her watch.
With an unmatched passion every day, she does what needs to be done at every level of the organization, from the support duties required to ensure the effective and efficient operation of the organization, to those professional tasks needed to support the doctors.  A welcoming, talented and thoughtful facilitator, Meredith has become the cohesive bridge between the practice's general dentists and specialists. Central to the organizational mission is that each participating practice retains its own unique brand and Meredith is instrumental in ensuring this occurs during both the onboarding process and throughout the life of the organizational relationship. Her engagement with the participating practices encourages the growth of positive and supportive cultures in each practice.
She demonstrates her committed to each practice by ensuring that each practice receives identical treatment in the negotiated terms, regardless of practice volume from a major vendor.  Her intentional efforts to ensure that negotiated benefits span across all participating practices sustain the collaborative and cooperative culture that accrues to the patients as well.
While Meredith is central to the process of onboarding an office to get it up and running, her professional commitment takes her well beyond that role into patient experience.  One operational factor that directly impacts the patient experience is the technological customer support infrastructure which includes the patient follow-up system.  Because of Meredith's attention to the patient experience, she took a critical look at this vital system in order to create a better experience.  Through her efforts, the DSO introduced an automated follow-up system that includes appointment reminders and has opened up avenues for patient communication—an enhancement that has increased patient satisfaction.
Meredith is a key asset to the future growth of Affinity Dental Management and her exemplary performance offers a model for other practitioners to follow.
---
SAMSON LIU
Dr. Samson Liu, who emigrated from Hong Kong to Toronto at the age of 11, began his career working as a dentist with Heartland Dental in 1999. He proved to be an integral contributor to the company's growth from thirteen to 800 offices over an 18-year span. Heartland's revenue went from $13 million to $1.3 billion during that time. By December 2017, Samson made the difficult decision to part with Heartland Dental to begin his own DSO: SOH Dental, aptly named after his three young sons, (Simon, Oliver, and Henry).
With palpable vivacity and excitement, Samson motivates and encourages people to growth to unimaginable levels.  His motivation and enthusiasm has led his team to realize their goals, both personally and professionally. SOH dental now has 22 locations with a year end 2018 revenue of just over 24 million.
Following a philosophy of collaboration, transparency and empowerment, and strong ethics, Samson believes that mistakes are the experiences necessary to learn and grow and he is unabashedly willing to share these learning opportunities.
He is inspiring and loves to teach; always thinking 'next level,' and challenges his teams to do so as well. Samson builds relationships with his doctors and teams and coaches them. Approaching every moment as a teaching opportunity, both large and small, he encourages his employees to do more, achieve more, and provide quality that is immeasurable.
Those around him can feel how passionate he is about what he does and he inspires the same spirit in others. Samson is the type of dentist who would rather help at the forefront than view from the sidelines, and believes that dental care should be provided, regardless of socioeconomic status. He is known to have a heart of gold and his agenda is altruistic as evidenced by his enthusiastic and compassionate care for the community.
---
ALISON MORRISON
Alison Morrison serves as the COO of Morrison Dental Group (MDG) and she combines mission and vision to inspire the MDG Team. Effectively implementing and utilizing systems and metrics, she empowers all employees by creating an environment of success based on innovation and improvement. Combining the ideals of a manager: 'doing things right,' and a leader: 'doing the right things,' she has helped lead MDG's growth.
She is seen as a leader, influencer and inspiration within MDG. Under her tutelage and guidance, the DSO, founded by her husband, has grown from 25 to 102 employees, from two to ten locations, and from $3 million in revenue to $10 million in revenue in just over six years.
By insisting that 'exceptions ruin systems,' she instituted systems and accountability to evaluate all aspects of the business and key KPIs. Alison has inspired her teams to greater performance while helping them achieve a better work-life balance.
Though her expertise is systems, her passion is people. Her leadership has created an environment where promoting to operations management is the desired pathway. In
fact, their entire management team started on the clinic floor.
A visionary, she started a bi-annual conference called 'Oil Changes' for MDG. The event includes all employees from every location for a day of training and team building.  Just like a car requires oil changes for maintenance and improved functioning, so do team members. National speakers, coaches, and inspirational leaders present a varied array of topics to help their team with consistency and compatibility.
Alison's efforts do not end with MDG. She has spoken on the importance of systems and culture at numerous industry conferences and is always giving of her time to speak with and coach other DSO leaders around the country through their growing pains.
Exhibiting entrepreneurial vision, business skills, tenacity, as well as unmatched energy, she provides both an example and road map to others on how to keep an organization on the right path.  Some people believe the glass is half-empty. Some believe the glass is half-full. She believes you just need a bigger glass.
---
DSO Influencers on this list were chosen from a pool of entrees who were nominated by their peers. GDN evaluated all nominee submissions and selections were made accordingly. GDN received no monetary compensation for including anyone on this list.
Do you want to nominate a DSO influencer for the next list?
Email Kim.Larson@GroupDentistryNow.com for more details.
---
Looking for a Job? Looking to Fill a Job? JoinDSO.com can help:Subscribe for free to the original, most-read, and most-respected DSO news:Read what our subscribers & advertisers think of us: