According to the NC Oral Health Collaborative, North Carolina has one of the nation's lowest per capita dentist rates. More than half of North Carolina's counties have fewer than four dentists per 10,000 people.  In fact, five Eastern North Carolina counties have no practicing dentists. Heartland Dental has plans to help increase the Tar Heel State's clinician numbers.
High Point University (HPU) recently held a groundbreaking ceremony to mark the start of construction on a new three-story, 77,500-square-foot building that will be home to the Workman School of Dental Medicine. It will be one of only three such academic programs in North Carolina — and the only one at a private institution. UNC Chapel Hill and East Carolina University house the state's two public dentistry schools.
HPU received a $32 million gift from the Rick and Angie Workman Foundation to establish the new dental school. HPU's Doctor of Dental Medicine degree program will enroll its inaugural class of 60 students in the fall of 2024. On Aug. 24, the dental school received its initial accreditation from the Commission on Dental Accreditation.
"While students have to learn the sciences and they have to learn the technical skills, the learning of leadership and interpersonal communication, how to lead a team and your staff, how to interact with patients and how to be a valued member of your community is very important to yourself. It's very important to the dental profession to take that and accept that responsibility within the community." – Dr. Rick Workman, founder of Heartland Dental which supports more than 1,600 dental offices nationwide.
Technology
High Point University's Workman School of Dental Medicine will be located on the Innovation Corridor section of campus. The new building will feature a fully functional dental office, a student lounge, state-of-the-art simulation labs and seven innovative learning spaces and classrooms. The haptic simulation lab, with 20 SIMtoCARE dental simulation units, will be the world's largest lab using SIMtoCARE dental simulation units to help train dental students. The high-tech simulators can replicate the feel of a real tooth so dental students can train safely without seeing live patients. They can replicate the feel of a real tooth with the pulp inside. The hand piece connects to electromotors, creating a realistic feel for students to practice procedures such as filling a patient or root canal.
A New Education Model
Their model includes a holistic review of candidates and has no required courses, degrees, shadowing hours, or standardized tests. Candidates are encouraged to share as much about themselves as possible so the dental school fully understands who the candidates are and what they can bring to the HPU Workman School of Dental Medicine.
No required prerequisite courses, no minimum grade-point average, and no Dental Admission Test (DAT) score
No application or supplemental fee—the only cost is the Acuity Insights (Casper & Duet) assessments.
An early commitment option for priority evaluation, interview, and admissions offers
A rolling admission process with results as early as two weeks after an interview
The HPU Workman School of Dental Medicine admissions model is designed to help create a culture that represents their core values of creativity, innovation, collaboration, teamwork, integrity, trust, leadership, and learning. Each person admitted to the school has a distinctive story that describes their knowledge, experiences, and attributes they will bring to their learning journey. The Plan Phase is the opportunity to share what makes the applicant ready for the Clinician-Advocate-Researcher-Entrepreneur (CARE) Curriculum.
---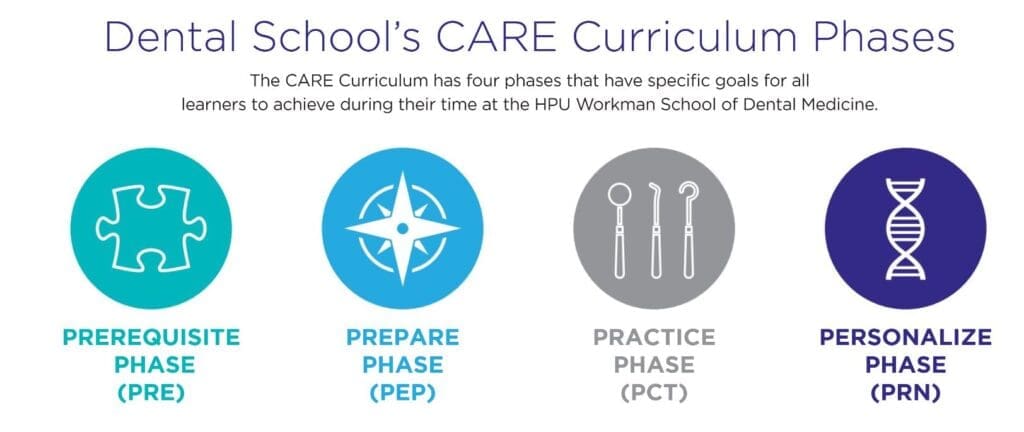 Admissions
They will NOT be using the ADEA AADSAS application. Below is a timeline of their admissions process. Candidates can access an overview of the 2023-2024 application and are encouraged to review the application assistance document for a guided journey through the application portal, as well as examples on how to best submit information in the application. To learn more about their admissions model, click HERE.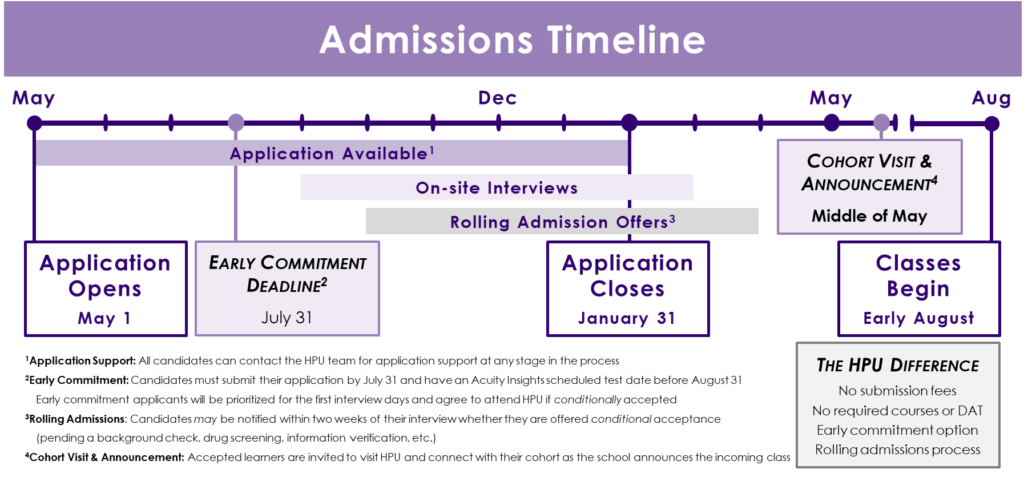 Sources: North Carolina Health News, HPU, HPE News, HPU Issuu, NC Oral Health Collaborative, NC Rural Health Association
---