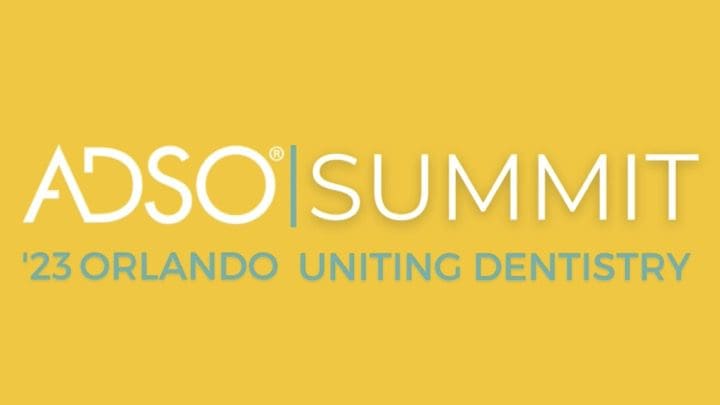 Uniting Dentistry: Bringing the Industry Together for Growth & Progress is the essential event for convening and collaborating across the dental space. Together we will elevate dentistry and thrive through turbulent times, while expanding access to care. Join ADSO DSO members and industry partners at the Omni Orlando Resort, March 28 – 31, 2023.
Annually, the Summit draws key leaders in the dental industry for three days of thought leadership, innovation, and networking. The 2023 ADSO Summit will feature:
1000+ attendees from across the dental industry
Visionary mainstage speakers to inspire, enlighten, and entertain
An expanded exhibit hall with 100+ exhibitors and secondary stage for innovative programming
Tracked breakout presentations and facilitated networking sessions
Targeted content for DSO functions leads including Marketing, HR, Finance & M&A, Operations/Tech, & Clinical Leadership
Opportunities to connect at receptions and outings highlighting the best offerings of the Sunshine State
---
Agenda at a Glance
TUESDAY, MARCH 28 – PRE-CONFERENCE MEETINGS DAY
10:00 AM – 12:00 PM Government Affairs Committee Meeting (DSO Members only)
12:00 PM – 1:30 PM Board of Directors Lunch & Meeting (Invite only)
2:00 PM – 3:30 PM Executive Committee Meeting (Invite only)
2:30 PM – 5:30 PM Innovative Solutions for Unprecedented Times:
How to Harness the Power of People, Community
and Technology to Supercharge Your Practice
Pre-Conference Workshop (DSOs only)
3:30 PM – 5:30 PM Welcome Lounge
5:30 PM – 6:30 PM VIP Reception (Invite only)
5:30 PM – 6:30 PM DSO New Member Orientation (DSO Members only)
6:30 PM – 8:30 PM Opening Night Reception
WEDNESDAY, MARCH 29
7:00 AM – 10:30 AM Breakfast in the Solutions Center
10:30 AM – 11:00 AM Opening Session
11:00 AM – 11:45 AM Keynote: Brian David Johnson, Futurist
11:45 AM – 12:15 AM General Session
12:15 AM – 12:45 PM Break
---
Registration is open:
Book your hotel reservation today!
Interested in Sponsorship or Exhibiting?  Complete interest form here.
Have content ideas?  Session suggestions?  Complete a Session Submission form here.