Many of our readers are headed to the Association of Dental Support Organization (ADSO) Summit in Austin next week. Group Dentistry Now will be there, so please say hello. We are always looking for the next DSO influencer, impactful content for articles, and of course, the next emerging dental group to watch.
The 2022 ADSO Summit takes place March 29th – April 1st at the JW Marriott in Austin.  The ADSO is expecting over 850 attendees.
Tuesday, March 29th starts out with preconference meetings and then the opening night pub crawl. Hopefully you don't overdo it during the pub crawl, and you are up bright and early for Wednesday, March 30th's Visionary Day. You'll get great content and networking throughout the day. At 4.30 there is a 'Wine Down' event and then a 'Let's Get Austin Weird' networking session from 5.30-7.30 pm. Thursday, March 31st is Best Practice Day. There are breakout sessions with tracks focused on marketing, human resources, finance/M&A, operations/IT and clinical leadership throughout your Thursday.  Thursday night closes with an 'Elevated Evening' from 5.30-7.30 pm. You can dress up and network with attendees before heading out on the town. Friday, April 1st features a half day focused on Planning and Reimagining the Future of Recruiting. The Summit wraps up at 11.15 am. You can view details and the entire agenda HERE.
Things to do in Austin
As you can see by the agenda, there won't be a lot of time to sightsee, but if you do find yourself looking for adventure, or just a good place to eat, resident and DSO executive recruiter, Jon Fidler has taken the time to provide a 'Local's Guide to Austin'. Jon Fidler, CEO of Fidler and Associates originally put this guide together when the ADSO Summit was held at the same JW Marriott in Austin back in 2018. He has updated his list for us. Please check it out HERE. Thanks Jon!
ADSO History

The first Association of Dental Support Organizations' Summit that GDN attended was back in 2014 in San Antonio, on the front end of the ADA Annual Session. The organization itself has been in existence for quite some time, just under a different name: Dental Group Practice Association (DGPA).
Several years back we interviewed Stephen Thorne, Founder and CEO of Pacific Dental Services, for a Group Dentistry Now podcast (listen or watch HERE). Steve talked about a gathering of dental group practice leaders years before the formation of the DGPA in 2007. These group practice leaders, which included Bob Fontana, Rick Workman, Rich Beckman, Mitch Olan, Steve Bilt and Doug Brown, among others, met up at the ADA annual sessions, and realizing much of the content presented at the ADA meetings did not apply to their businesses. While at these ADA sessions they casually set up informal meetings off to the side.
These DSO leaders then started to meet regularly to discuss issues that were relevant to their organizations and from those meetings, the concept of an association for dental group practices was born.
The executive management teams of ten dental support organizations met regularly at the ADA meetings and at other professional organizations' meetings throughout the years. Eventually they began to reserve meeting space at these meetings to insure brainstorming and discussion time among themselves. They at first considered themselves a "study club." After several years of this, and as their numbers began to grow, they realized it was time to formalize their own professional association to meet their very specific needs, and in 2007 the Association of Dental Support Organizations (originally DGPA) was born with 13 members. Stephen Thorne was the first president of the association. By 2010, Industry Partners were welcomed into the group.
The original members of the ADSO included Affordable Care, Allied Dental, Aspen Dental Management, Bright Now Dental, Dental Care Alliance, Dental Care Alliance, DentalCare Partners, DentalOne Partners, InterDent Corporation, Great Expressions Dental Centers, Heartland Dental, Midwest Dental, Pacific Dental Services and Towncare Dental. (Source: 2014 ADSO Summit handout)
In 2014, the DGPA changed its name to the Association of Dental Support Organizations (ADSO). The first ADSO meeting was held just prior to the American Dental Association annual session in San Antonio and then in 2015, the first official Summit was held. The 2015 event had a little under 600 attendees and has grown in attendance every year since. In fact, not only has the event grown, but the association has also grown to be the largest dental group support organization in the world.
Here are some past articles from the ADSO and recaps of the past ADSO Summits and other ADSO events.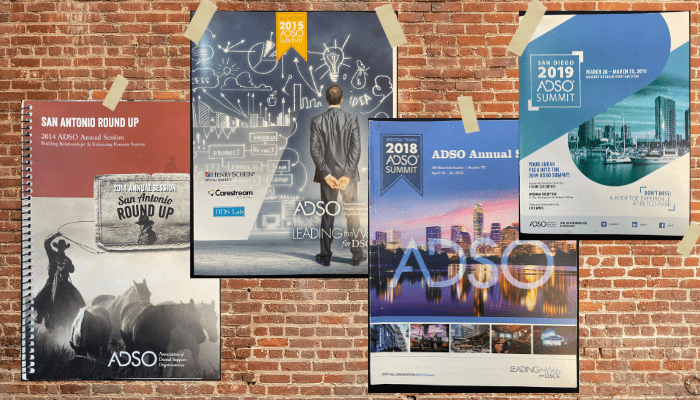 See y'all soon!
Bill Neumann
CEO, Group Dentistry Now
---
Looking for a Job? Looking to Fill a Job? JoinDSO.com can help:Subscribe for free to the most-read and respected
resource for DSO analysis, news & events:Read what our subscribers & advertisers think of us: