Written by Ryan Torresan, Chief Marketing Officer of Frontline Dental Implant Network
"Disruption" is a marketing buzzword often used casually to describe introducing a new idea or innovation. But is that really enough to be considered disruptive? Disruptive is overused and overplayed; for the past 20 years 'disruption" has been the leading battle cry in business: Disrupt this. Disrupt or die. It falls on deaf ears at this point. Frontline Dental Implant Specialists (FDIS) was created to fill a need in the space.
FDIS is innovative in that we simply do what other groups won't; we partner in the truest sense of the word.  Partners grow their legacy while compounding their value.  Practices keep their brand, 100% clinical autonomy, practice grows profitably and FDIS helps where the practice needs it. We are partnering with the best in the dental implant space and doing it better than others through true partnership and direct, honest discussions focused on growth.
As the world's first Dental Implant Partnership Network, Frontline prefers true partnership that financially rewards the partner and puts the people as a priority – that goes for the entire team, from the doctor and oral surgeon to patient care coordinator and everyone, and the core of every implant organization's success – the patients.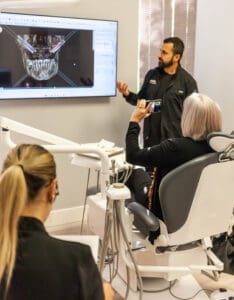 THE BEST OF THE BEST ARE ALREADY ON THE FRONTLINE
Other groups are notorious for their corporate organizational structure, group focuses, doing it the same way and doing it their way. Yawn. The secret to Frontline is we understand not every practice is the same, that's what makes you unique and why Frontline innovates through partnership. To grow from the benefit of the business and the patient. Frontline common sense is tingling – we value autonomy and promises to prioritize the legacy the partners – you keep your brand and logo.
There is no one-size-fits-all approach. By partnering with the best, we can share with you marketing insights from the most successful practices in the country. Another benefit of Frontline is that we support your business where you need it. We have your back on things beyond marketing. Things like Operations, IT, Human Resources, and more. By partnering with the best, we aim to take 150+ years of experience founding, building, integrating and scaling dental groups and make a strong, successful dental implant practice even more successful.
So this raises the obvious question…if the practices are so successful, why do they partner with Frontline? Easy. Intelligent practices know they are not great at all things, and it is better to partner with someone who can bring expertise in areas where you are not the strongest and share best practices amongst themselves. Look at the premier dental implant practices that have already partnered with Frontline – G4 by Golpa, New Teeth Now, Fast New Smile, Salvatore Dental, and more of the best around the country.
Partnering with Frontline allows for greater control over one's destiny and the opportunity to elevate growth. It uniquely gives access to an accessible community of industry-leading oral surgeons, doctors specializing in implants, and team members. It's also why Frontline is so selective about who joins Frontline. Not everyone gets in. We are looking for the best of the best doctors, oral surgeons and team members that fit the culture and understand we are all in this together.
150+ YEARS OF EXPERIENCE IN ONE COMMUNITY
The newness of Frontline to the dental implant landscape is counteracted by the well-seasoned team with over 150 years of combined experience supporting practices equipped to handle any challenge. They have worked for other groups, know the pros and cons and what to do to make Frontline….well, better than other groups.  Arguably one of the most remarkable benefits of partnering with Frontline is The Frontline Institute which leans on its exceptional partners and experienced leaders to learn collaboratively—or, said another way, mentorship that actually happens. Learn from the best, share ideas, and grow.
Dr. Riad Almasri, Fast New Smile, who often has doctors outside of Frontline pay tens of thousands to mentor with him, has Frontline partners visiting his office for side-by-side mentoring. Group chats and video streaming calls to discuss new techniques and what is happening in their office are all part of the Frontline difference.
Identifying Opportunity for Marketing Dollars to Go Farther
Let's talk about real-life examples of how we help the best become more efficient. Marketing is vital to a successful implant practice. Every practice we partner with is moved to our CRM and Practice Management software. While IT gives our partners the newest technology, marketing audits what is working and what could be improved and provides recommendations. As a partner practice, you have say over your marketing.
Many times we have found offices whose digital marketing vendors and team members are not getting the best use of their marketing dollar.  Anyone who has managed digital marketing vendors knows this frustration.  Things like bad campaigns, poor targeting, not a large enough radius around the office or focus on vanity metrics like impressions instead of business impact metrics like consults generated have led to many moments of frustration.  Through the Frontline network we can share what is working best at other practices and provide feedback on ineffective digital media buys.  The good news is that we could not only help the practices be smarter with their marketing spend, but they can repurpose those funds into other marketing tasks simply by being more effective.
Powerful and Intuitive Technology and Tens of Thousands of Dollars Annually Saved by Following Procurement Recommendation
John Klavon, who oversees Procurement at Frontline, has relationships with some of the largest dental suppliers in the world. We recently helped a group secure new technology and negotiate better rates with vendors due to their size, resulting in tens of thousands of annual savings. But even better, they got the best technology for their office while saving money.
Frontline Helps Practices Expand Their Brand in the Communities They Serve
Frontline has recently partnered with a handful of major professional sports teams, helping their partners negotiate the deals and building stronger sponsorships that provide exposure and brand awareness in their markets. Each sponsorship agreement is structured to support the office in growing brand awareness and tracking online traffic generated to the practice's website.
These partnerships are carefully selected to strategically connect with the local community, expand brand recognition, and educate people about full-arch dental implants. Frontline and its implant partners have increased brand awareness and credibility in target markets by teaming up with professional teams in Florida and California.
Frontline Partners Successfully Open New Locations and Improve Operations
Sometimes an office wants to grow more efficiently, and others want to grow by adding more locations to their brand. Well, when you are focused on running your practice, you may not have the time to expand. This is another real-life example where Frontline has helped one of our premier partners. They have doubled their locations in less than a year.
The future of Frontline is investing in powerful technology, Frontline is doing just that with AI software that helps improve calls and form fills from an interested person. We've done the research and know that when an office responds to a person's request within 5 minutes or less, they double the chances that person becomes a patient. We also know that nearly half the patients are willing to travel roughly 200 miles to get the care they want.  Frontline investment in AI technology is allowing us to respond to a interested patient almost instantly, identify improvements in the consumer interaction over the phone, online and in person.  Our job is to build the machine so when our partners request the help we can make a positive impact to their brand.
As the Chief Marketing Officer of Frontline Dental Implant Network, I am thrilled and honored to join this innovative team. If you have any inquiries or want to learn more, please contact me at rtorresan@frontlinedis.com. Stay tuned for our upcoming podcast "Frontline Full Access" powered by Group Dentistry Now. Check out our new site at frontlinedis.com.  And you can also connect with us on social media to get a "peak behind the curtain" of Frontline, the dental implant industry, plus insights from pioneers that shook the industry in the early 2010s to modern-day practices facing today's challenges.  We are just getting started, and we have a lot more to show you.