Publisher's Letter
I have been on the road since the beginning of March 2021 as dental meetings started back up in-person. It is great to witness the excitement, idea sharing, and above all, connecting with people in-person.
I believe now is the perfect opportunity for organizations to reinvent their dental and DSO meetings.
Before COVID, vendors, clinicians and other meeting attendees were seriously questioning the value of dental meetings. There had been a scaling back of booths at the major dental meetings and even large vendors either didn't go to some of the meetings or just attended, but did not exhibit. Pre-pandemic there had also been a pivot from attending and exhibiting at large meetings to vendors attending and getting speaking opportunities or more engaging sponsorship opportunities at smaller, more specialized events such as DSO meetings, study clubs, or specialty meetings. For attendees, the ability to get continuing education (CE) credits online from a variety of sources reduced the need for in-person attendance.
During the pandemic, we saw a transition to virtual events. While these events may have offered a benefit to attendees, virtually (no pun intended) all of these meetings were a letdown for the industry partners and vendors who attended. Virtual booths had few, if any, visitors, and networking opportunities were either non-existent or did not translate well in a digital setting.
As we emerge from the pandemic lockdowns, more people are comfortable traveling and returning to normal, and that means attending in-person dental conferences for many. There is a whole host of DSO and dental meetings taking place in Q3 and Q4 of 2021 – DSO Events for 2021.
What dental event planners and attendees alike should consider is what they want out of these dental meetings. Networking opportunities and time in front of attendees are at the top of vendors' wish lists. Attendees, on the other hand, are looking for solid educational opportunities in a fun, unique setting.
Outside the Box
I recently attended Yankee Dental's Dentalpalooza in Boston on Friday, June 4th. Yankee Dental Congress is typically held in late January in Boston. The pandemic caused the event to be held virtually in January, but Yankee did not want to miss out on an opportunity to host an in-person event in 2021. The one-day Dentalpalooza event was held at the Lawn on D next to the Boston Convention Center in South Boston. The weather was balmy for early June in New England, and even though there was a little rain towards the end of the event, it was rated by just about all attendees and vendors a homerun. It was a party-like atmosphere with lawn games, local beer, Irish dancers, a live band (of dentists!), and an electric violinist to top things off. CE courses were held inside and outside. The Massachusetts Dental Society reimagined what a dental meeting can be, and going forward, every organizer should do the same.
What's up Next?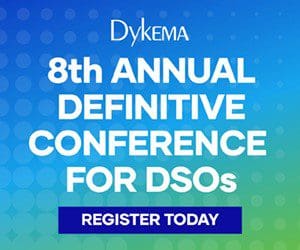 The 8th Annual Definitive Conference for DSOs, Dykema DSO Conference will be held in Denver, Colorado on July 28th – 30th. This event will be the first DSO meeting to occur in-person this year with a predicted 1,000 attendees. Being that this is the first DSO meeting in a year and a half and because Dykema puts on a great show this meeting will be well attended.  Find out more HERE and save $100. There will be several other events surrounding this meeting including on Wednesday, July 28th the Women in DSO Launch event, the Strolling Dinner event and the Dykema Reception event on Thursday, July 29th featuring an 80's style band and fireworks.
On September 7th and 8th at the Marriott Marquis in San Francisco (right before the California Dental Association Meeting) is the DSO Leadership Summit. I enjoyed this event immensely in 2019 when it was held in Santa Monica and that was one of the reasons that Group Dentistry Now has decided to partner with HR for Health to host the event this year. The DSO Diagnosis segment will be held once again, with experts in the DSO field providing guidance to emerging dental groups live on stage. Group Dentistry Now will be adding our own personal touch with a celebratory awards ceremony for the Emerging Groups to Watch of 2021 which are featured on the highly acclaimed Emerging Groups to Watch list. We expect this event to be one of the highlights of 2021 as far as intimate DSO and emerging group events are concerned. To find out more and view the agenda click HERE. Stay tuned for an upcoming podcast to find out more about this special event.
Right after the DSO Leadership Summit – just across the street at the Moscone Center – will be the California Dental Association North meeting. This meeting has just been announced that it will be held in-person and should be a well-attended event given that the CDA South in 2020 and 2021 were both held virtually as was last year's CDA North meeting. Dates will be September 9th – 11th. Find out more HERE.
Next up, OpenRoom events will be holding their DentalForum USA meeting in Austin, Texas at the Lost Pine Resort on September 13th and 14th. This event is hailed as one of the better events to attend because of its unique, one-to-one format. Find out more HERE.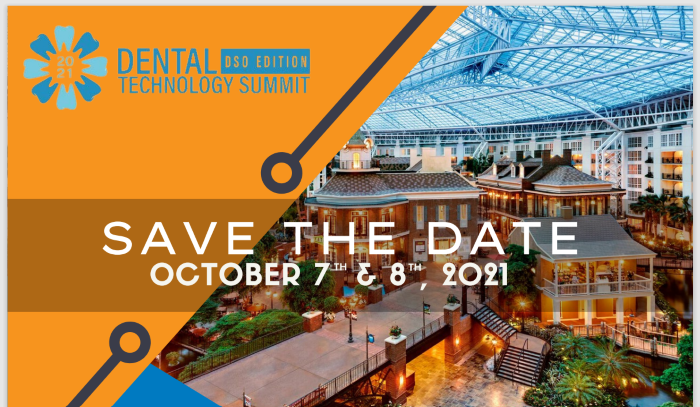 A new DSO event this year will be held in Nashville, TN on October 7th and 8th. The Dental Technology Summit [DSO Edition] will be held at the Gaylord Opryland. The focus of the event will be cybersecurity as well as other technologies that DSO should be focused on. More info HERE
Las Vegas will be busy this year with several dental and DSO meeting organizers taking advantage of all Las Vegas has to offer. The American Dental Association will hold its annual meeting on October 11th – 13th. The event, called SmileCon, will be the first in-person meeting that the ADA has held since their 2019 conference that was held in San Francisco. The event will be held at Mandalay Bay Resort and Casino. As a frequent attendee, it will be interesting to see how the ADA SmileCon event pans out in Las Vegas as Vegas has been a tough destination in the past from a vendor and attendee engagement perspective due to all of its distractions. More information can be found HERE.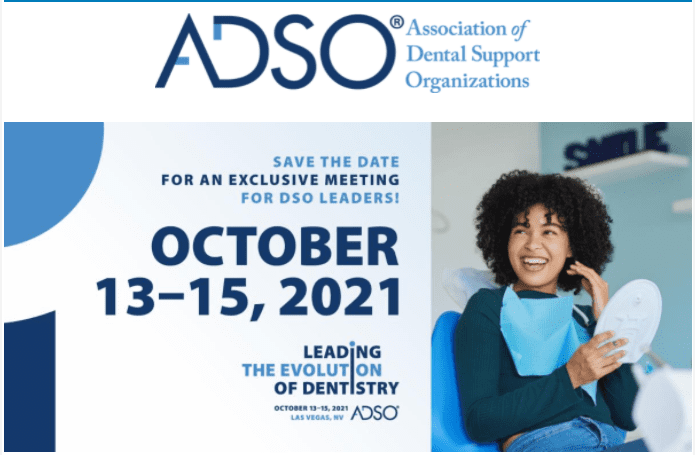 The Association of Dental Support Organizations has also decided to hold an in-person meeting this year right after the American Dental Association SmileCon event in Las Vegas. Titled Leading The Evolution of Dentistry, the event will be held October 13th – October 15th at the Venetian Hotel.  ADSO will unveil its three-year strategic plan. There will also be networking, golf and a host of other offerings. Find out more HERE
One of the last events of the year will be the Greater New York Dental Meeting. New York City has had a rough go of it as the city has been impacted hard by COVID – the lockdowns, rising crime and an exodus of many city dwellers to the suburbs and other states. As someone who has attended the Greater New York Dental meeting every year (sans last year) since 2003, I will be in attendance and am hopeful that the meeting and city can fight their way back to being one of the best cities and meetings in the country. The meeting will be held November 26th – December 1st at the Jacob Javits Center. At this time, the event requires proof of vaccination. You can find out more HERE.
To sum things up, dental events are back in-person, but attendees and vendors are going to demand more networking and quality content if these events are going to continue to drive value to all key stakeholders. GDN will continue to cover the events that are invaluable to the industry. I will personally be in attendance at most, if not all of  these events and I am looking forward to seeing many of you there. Feel free to reach out to me or Kim Larson to connect with us at these events.
Bill Neumann
CEO, Group Dentistry Now
Read Bill's other publisher's letters:
---
Looking for a Job? Looking to Fill a Job? JoinDSO.com can help:Subscribe for free to the most-read and respected
resource for DSO analysis, news & events:Read what our subscribers & advertisers think of us: